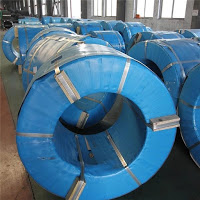 7 wire PC strand which uncoated or galvanized is the most commonly used product for prestressing or post tension concrete structures. The PC strand which uncoated falls into two kinds: first is the low relaxation and normal stress-relieved. The galvanized pc strandwith zinc coating layer for corrosion resistant is mostly used for mining and cable-stayed bridge constructions.
The common sizes of 7 wire PC strand:
Structure: prestressed concrete 7-wire strand
Standard: ASTM416, BS5896, others
Nominal diameter:12.7 mm, 15.2mm, 21.8mm, 23.5mm prestressed concrete 7-wire strand
Application: for construction of bridge, the highways, at airports, in sports venues and other infrastructure areas.
The coil of PC strand are packed by HDPE with wrapping machines for the protection of the material free from rust and dust. Big and large coil wrapping machine or so called stretch wrap machine are applied for the packing process of 7 wire PC strand.