This coil wrapping machine is designed and manufactured for the packaging of large steel wire coils, aluminum coils, copper coils and other toroidal coils. At present, our packaging machines have been exported to many countries and regions in the world and enjoy a good reputation. We will provide the most suitable packaging solution according to the actual needs of customers.
Machine advantages:
1. High efficiency
2. It can save labor cost the most
3. The cost of consumables and energy used is extremely low
4. The noise level when the machine is running is low
5. Easy for workers to operate and maintain in the future
6. Simple and fast installation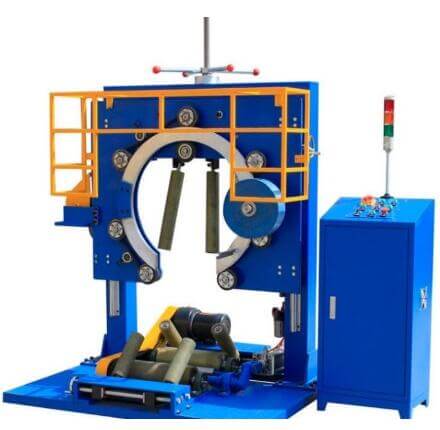 Specification:
size
Net weight: about 300kg
Wire voltage: 380V-50Hz, three-phase
Control voltage: 24V DC
Power consumption: about 1.5kW
Noise level: <79dB
Swivel speed: 30-80 RPM (VFD control)
Roller speed: 2000-4000mm/min
Machine characteristics:
The ratio of overlapping packaging can be adjusted by the inverter
Position adjustment of coils of various sizes
Adjustable packaging material tension
With slow start/stop function, safer operation
Adjustable upper/lower side rollers
Independent electrical box that can be used for remote operation
Two different packaging materials can be used
Reinforced and thickened aluminum ring and structure, firm and stable
Machine installation:
The machine should be installed on a flat, hard ground, and its load should be greater than 1 ton/square meter.
Usually semi-submersible installation can be done to facilitate manual introduction and push of the coil.