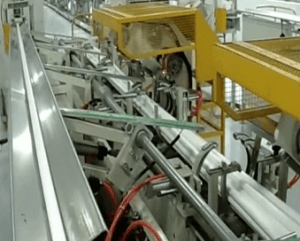 PVC/PPR/PE pipes bundling making and strapping packing line, with efficient, convenient and safe wrapping machinery for pipe bundle packaging, can customize bundles stacking system in the end of packing line.
Machine with pipe number counting, pipes piece by piece in-feeding, storaging, align and bundling, then strapping bundle, at last conveying bundle outing for stacking.
With CE guidelines and using the latest technology and design criteria from the world.
Technical parameter:
Pipe No.: 10-50pcs per bundle
Pipe OD: 16-60mm
Pipe length: 1.5-3 meters
Bundle OD: 300mm per bundle
Conveying speed: 20m/min

Strapping material: Stretch film
Stretch Film Roll Size: Width:90mm OD:100-180mm ID:50mm
Strapping position: Two or three straps
Power supply: AC, 380V/50Hz, 3 phase 5 wires
Packing speed: 40-50 sec per bundle
Power :App. 3.5Kw