Emanpack can provide customized solutions for automatic winding /wrapping machines according to the user's requirements for various specifications such as steel wire coils, copper coils, galvanized coils, and PC strand wire coils.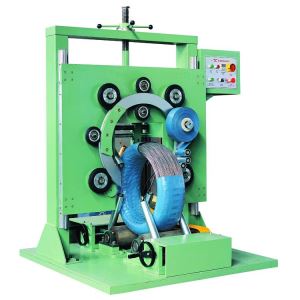 The machine winds the coil through the eyes to protect the product from water, dust and rust damages in order to store for longer time in damp warehouse or outsides. This is an efficient equipment for coiling shaped objects, and it is an ideal packaging solution to save labor, protect products and reduce material costs.
Stainless steel coil wrapping machine is a model which belongs to the automatic winding and wrapping machines. It is an automatic packaging solution, especially for modern steel manufacturers, it is also very suitable for steel wire coils, 7 wire PC strand, pipe coils, copper coils and other different ring products. It has the Trolley for safe handling and loading of heavy steel coils. The wound steel coil has good protection and airtightness, beautiful appearance, and has the functions of waterproof, dustproof, rustproof, wear-resistant and anti-aging.