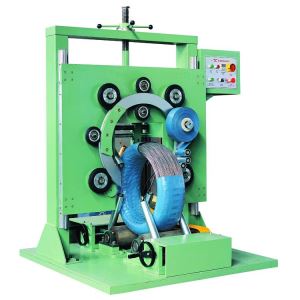 Steel coil and steel wire coil winding wrapping machine
Description of the steel coil and wire coil roll wrapper machine:
The steel coil and wire roll wrapping machine is specially designed for packing different specifications of steel wire, galvanized steel wire, stainless steel wire, copper wire, strapping wire, etc. It can protect the wrapped steel wire coil and rolls from dust, water, rust and scratches. The wrapped and packed steel coils, wire rolls and spools are also neat and tidy, easy to store and move.
TECHNICAI DATA OF THE COIL AND ROLL WRAPPER MACHINE:
ITEMS
EM-S/W
Wire coil weight
≤300KG
Wire coil width
≤300mm
Wire coil OD
500-800 mm
Wire coil ID
≥200mm
Roller turning speed
2-4m/min
Ring turning speed
Approx 20-80r/min
Applicable material
Stretch film/Composite  paper/knit tape /etc.
Material width
60-100mm
Material OD
100mm
Material ID
50mm
Power output
About 1.2kw
Power voltage
AC/380V/3phase 5wires
Pushing-out device

(for   easy offloading)

optional
Circumferential   labeling device
optional
Synchronous   wrapping system
optional
Control   mode
Auto/semi-auto