As a packaging expert of all kinds of large and medium-sized furniture and wood or other material products, we usually recommend two different packaging solutions, the cold wrapping and the thermal wrapping, according to the production requirements of customers.
First we want to show you the cold door wrapping machine, which is suitable for cold processing and is very suitable for doors and all types of furniture, windows. It is a machine which has controllable production capacity combines high protection level and low power consumption cost, so as to achieve excellent protection in terms of materials used and very low energy consumption. The advantage of this cold wrapping machine is that it can combine the recyclable polyethylene bubble film with the recyclable polyethylene stretch film to provide double insulation protection which comes from the buffering effect and strong and reliable retention of the bubble and its air bag.
Furthermore, this door wrapping machine is versatile for machine installation with great flexibility because it can be packaged in various sizes and is very effective, efficient, profitable and affordable in terms of energy consumption.
Let's take a look at the door shrink wrapping machine, it has excellent strength and high reliability, achieves a higher degree of aesthetics and provide a higher degree of protection to all types of furniture, door, wood, mattresses, textiles, profiles and fences. The heat shrink wrapping machine provides extremely high production capacity because it only needs to stop when it comes to the welding of film briefly during the whole packaging process.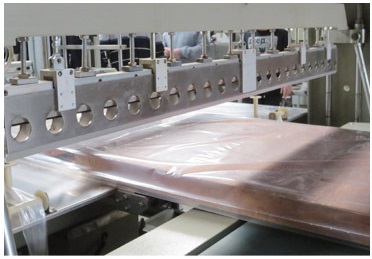 After numerous trials and tests, finally we have found the new and better sealing solution which applied to the welding process of sheets and film of different qualities and material characteristics. Our new sealing blade (bar) perfectly compatible with the use of these materials, achieves excellent finishes, aesthetic and effectively to take care of the products within the delivery conditions to the end customers.
The machine has wide range of options of using different polyethylene film with specific characteristics, which the colors or even brand can be printed to complete the product packaging. The energy efficiency of this shrink wrapping machine has reached an unprecedented level.