The aluminum extrusion packaging machine is designed to automatically package aluminum profiles through stretch film wrapping, plastic braided tape or other required composite materials. The object can be a single profile or a profile bundle.
The machine can be specially designed according to the customer's configuration file specifications, regardless of the size of the profile can be packaged by a machine. Please contact us for more details.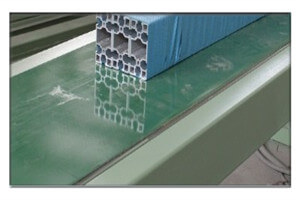 The machine has PLC programmable control and HMI screen operation with automatically warn of machine errors. Using friction structure, safe, stable and strong operation and photoelectric sensors to automatically track objects.
The machine also has Special tension adjustment system can ensure uniform tension of packaging materials. With durable PU coated roller. The height of the swivel is adjustable and the length of the conveyor belt can be customized. You can choose a manipulator to feed and cut the film automatically and two different materials are optional to add which can be wrapped at the same time.