Machine application of door orbital wrapper:
Automatic door orbital wrapping machine is used for automatic door/panel packaging. The purpose of using this wrapping machine is to make a package for the door products to avoid scratch and dust damage to the door panels during the storage time and transportation.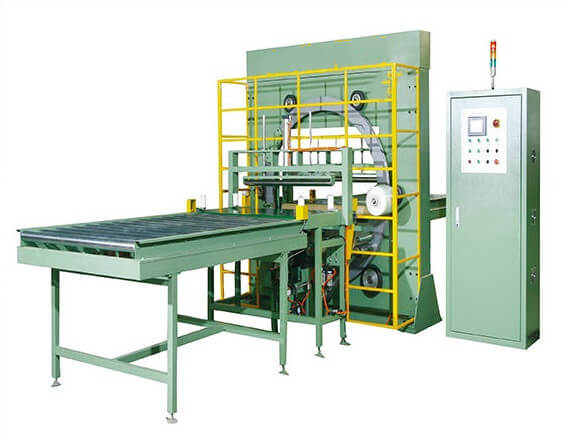 The machine is mainly composed of feeding and discharging conveyors, safety fences, automatic line electrical control boxes, etc. The whole machine is fully automatic, and there is no human intervention except for the replacement of consumable items (ie, stretch film rolls).
Basic Features of the door orbital wrapper machine:
PLC control system and HMI touch screen operation.
Adopt friction structure to ensure safe, stable and powerful operation.
Automatically track objects, precise positioning, convenient and safe operation.
Special tension adjustment system can ensure uniform tension of packaging materials.
Manipulator automatically feeds and cuts packaging materials, safe and efficient.
The protective roller is wrapped by polyurethane to prevent scratches.
Soft start and soft stop function to ensure safe operation.
Automatic error alarming functions to notice the workers in time.
The conveyor can be galvanized roller, rubber roller, belt conveyor, etc. The length can be customized according to needs.