The common way for up-ending a heavy steel coil is using the chain and hoist or crane to lift the steel coil up and then turn over. But it's a very risky operation for the workers, with a falling they might severly injured or lose their lives.
Emanpack mechanical coil tilter provides a safe, convenient and efficient method to rotate the coil 90 degrees under extremely heavy loads. This quick and easy coil handling solution eliminates risky steering methods that can endanger the operator. The tilter will be individually designed and manufactured to suit customers' specific applications and capabilities.
The following figure of working mode is for reference: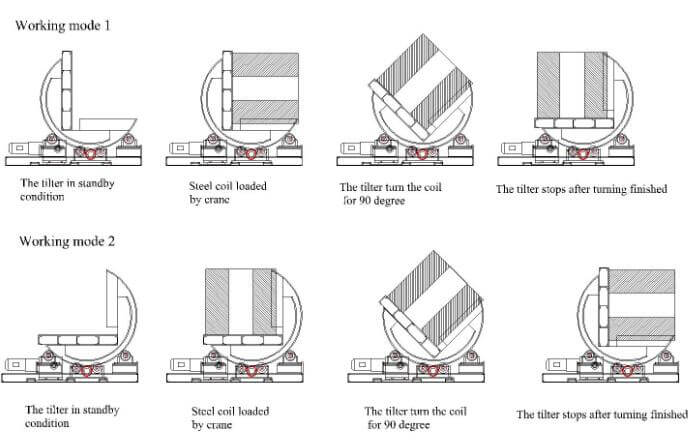 Here are some of the features of the steel coil tilter:
The structure is firm, firm and durable.
High carrying capacity.
The special double-chain transmission, helical gear and worm reducer make the equipment transmission safer and more reliable.
The scientific four-roller clamping device makes the tuning stable and stable.
The frequency converter motor can realize the segmented control of the speed; make the tilter stop smoothly and steadily.
Independent remote control to ensure convenient and safe operation.
Electromechanical stoppers are used to ensure the safe operation of the assignee.
During the rotation, the machine can stop at any position.
Emergency stop and position lock function can avoid rotation.
After the turning process is completed, the machine will automatically stop.
The emergency stop button can quickly stop the machine in an emergency.