With the support of our many years of industry experience, we are committed to providing high-quality inline coil wrapping machines for protection and effective coil packaging of copper strip coils. This automatic horizontal coil wrapping machine is also applicable to wrap corrugated pipe coils, steel wires, plastic pipes/tubes/hose coils, and the packed packaging is well protected and sealed, and looks neater. This machine can not only help you save labor, save warehouse space, improve work efficiency, but also decorate packaging items well.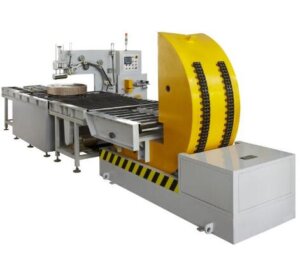 The machine can also be equipped with a coil tilter at the front end, or connected to the production line to become an integrated online packaging equipment.
Basic Features of this inline coil wrapping machine:
*Packing station format: online delivery of objects.
* PLC control and HMI operation.
*The support roller lifts the coil from the conveyor for packaging.
*Automatic positioning makes the coil stop at a specific position for packaging.
*Automatic coil centering for packaging.
*Two working modes, manual and automatic, can be selected to achieve flexible operation.
*Frequency conversion speed regulation, material overlap rate can be adjusted according to different requirements.
*Different packaging requirements can be achieved by setting the corresponding parameters in the PLC.
*Packaging materials are automatically cut.
*In the event of a failure, the indicator will automatically alarm.
*Innovative design, material tension can be adjusted automatically.
*The use of a separate electrical cabinet makes operation and maintenance easier.
*The length of the conveyor belt can be customized as required.