Different hose and pipe coil wrapping machines designed with specific structure for packing light corrugated hose and heavy hydraulic pipe coils in different modes:
The vertical hose coil wrapping machine with a ring-shaped top opening structure is usually used for packing light or small corrugated hose coils and tube coils, and has a pressure roller to fix the position of the coil to prevent movement. The machine is equipped with a high workbench to facilitate the operation of the operator. The common packaging material that matches this machine is LLDPE stretch film.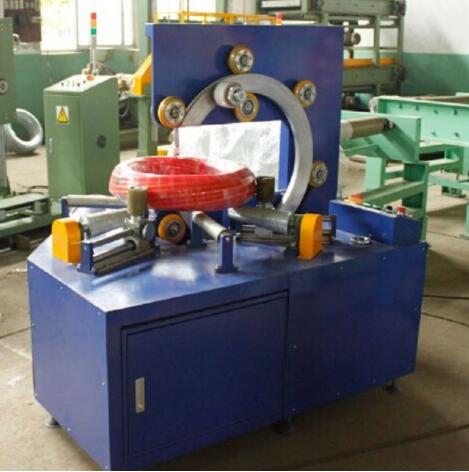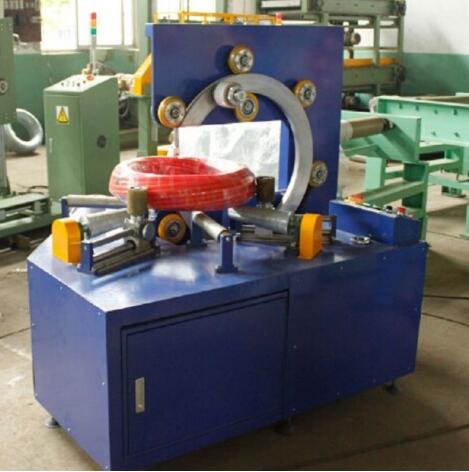 The hydraulic hose wrapping machine is specially designed to achieve the packaging needs of horizontal and compact packaging of hose coils, pipe coils and other coiled objects. The wound hose coil is completely sealed and looks neat and beautiful in storage, transportation and the market. The operation is simple, both the energy consumption and material consumption are low, but the packaging efficiency is high and the labor cost is low.
Basic Features of the hose and pipe coil wrapping machine:
The pipe coil wrapping machine is a horizontal structure, equipped with a worktable, which is convenient for manual operation.
Suitable for lightweight coils that are easy to manually install and unload.
The overlap rate and film tension can be adjusted as needed.
Different packaging materials can be selected.
In the event of a failure, the indicator will automatically alarm.
The roller coated in polyurethane can protect the surface of the product.
Safety fences for turning parts ensure safe operation.
Automatic feeding and cutting are available.
The main packaging machine can be designed to be movable to facilitate the loading of heavy coils.
The conveyor belt can be equipped with automatic operation.