S1000EZ is one of the high quality and high efficient horizontal automatic orbital stretch wrapper machine in high performing and stability. Available in standard as well in customized option. Everything can be wrapped from gilded picture frames,all kinds of furniture, bundles of wooden as well as profiles of various materials up to raw steel packages.
The silent features are Automatic stretch film application and cut-off system, Equipped to be integrated into an automatic operating sequence. Operator panel with functional keyboard and display for data input.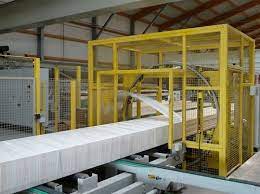 features of China supplier price horizontal orbital stretch wrapping machine for wooden door
1.Special conveying device is easy for loading&conveying the package strengthens the transfer capacity .
2.Indicator alarms automatically when trouble occurs.Trouble can be shown.
3.Photoelectric sensor is adopted for setting packing position.
4.Material tension could be adjusted automatically.
5.The turning ring is controlled by frequency converter. Overlap rate could be adjusted according to the requirement.
6.Siemens PLC control system.
7.Pneumatic grab,attach and cut the film tails automatically.
8.Film packing layers,times adjustable.(cycle pause capability)
9.Manually adjustable infeed and outfeed side guides.
10.Infeed and outfeed product photocells detection during running process automatically.
11.Ring sizes,ring speeds,additional conveyor and convveyor types can be customized
Remark:the ring diameter will be as your product size.