Perforated steel sheet is the material which commonly used for manufacturing of different products and also used in protection area, such as the fence of machine's safety guard. It's a sort of sheet products which is made of mild steel or plain steel sheets by pouncing and stamping process. The final products usually with nice patterns such as round, square or slot…

The higher carbon content the steel sheet has, the higher hardness with the lower ductility and weldability the products will feature.
Comparing to stainless steel sheet and aluminum sheet, this steel sheet is considered to be cheaper and easy for painting and plating. It also can be galvanized or PVC coated to gain corrosion resistance. so, it's a common choice for customers and the consumption is very huge.
But making this product is not easy in some kind. Huge amount of steel sheets are used and it require flip over and process on both sides. These works require us often need to turnover a large bundle of stacked steel sheets 180 degrees.
A powerful and effective machine is what we need to increase our capacity. The steel sheet inverter is a machine also known as C shape pallet inverter which has high capacity to turnover 2-4 tons steel sheet bundle load on skid 180 degree. The machine has a pressing plate which is driven by pneumatic cylinders or hydraulic cylinders.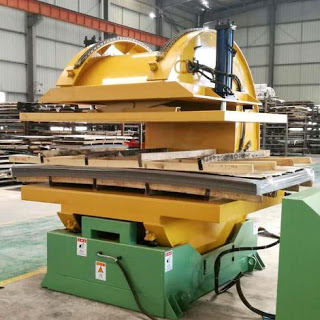 The machine cradle upends supported by both rollers and chains with sprocket.
By the use of the steel sheet inverter, the manufacturers are enabled to make sufficient products to provide in the market.